Introduction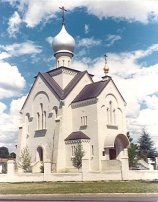 Welcome to the website of the St. John the Baptist Cathedral in Canberra. The cathedral parish is part of the Australian Diocese of the Russian Orthodox Church (Abroad). We hope that your visit will be of benefit.
Church Picnic
On Sunday 12 July 2020, at 1pm we will be having a church picnic at Cotter Bend to celebrate the Feast of St Peter and St Paul (and the end of the fast!). As we've all been in quarantine for much of this year, this is a great opportunity for our church family to get together to share a meal in a beautiful setting, to socialise and enjoy each others company. We encourage everyone to bring a plate to share and bbq facilities are available. We hope to see you all there.
The dean of the cathedral is Archpriest Alexander Morozow.
For general enquiries please email enquiry@stjohnthebaptist.org.au. For information and enquiries about hiring the parish hall, please see the contact page.
Our parish website also has web pages in Russian with different content.
Recent Updates
19 June 2020

Important update regarding COVID-19

26 May 2020

Important update regarding COVID-19

10 May 2020

Important update regarding COVID-19

19 March 2020

April edition of Listok (in Russian).

17 April 2020

16 April 2020

13 April 2020

10 April 2020

5 April 2020

Details for Faith and Wisdom, Daniel and the Three Youths ministry and the bible study being held online added.

4 April 2020

28 March 2020

Pastoral Letters relating to COVID-91

21 March 2020

Additional announcement regarding COVID-19

21 March 2020

Details for helping support our parish

19 March 2020

Important announcement regarding COVID-19
Updates Related to COVID-19
The further relaxation of restriction on gatherings starting on Friday 19 June allowing more worshipers to attend church services is very welcome but continues to pose some difficulties for us to ensure we comply with the four square meters per person rule. This means that the maximum number of worshipers in the church we can have at any time is 25. As painful as having services behind closed doors has been, it would be no less painful for someone to come to church only to be told there are already 25 people attending and that they cannot enter.
After again reviewing this changing situation, Father Stephen and I have agreed that for the time being we will continue to ask that anyone wishing to attend Sunday services notifies me (Father Alexander) in advance on 0411165925 and does not just come along on Sunday morning without warning. We will give priority to those who wish to receive confession and communion and also to those with special needs.
Weekly services are being held on Saturday evenings and Sunday mornings at the usual times. As attendance on Saturday evenings is usually considerably less than for Sunday liturgy, prior notice for these Saturday evening services is not required.
Sadly, the continuing COVID restrictions will mean that this year we will be unable to celebrate our parish feast day as we would like or to have Bishop George serve in our church. We will observe the feast of St John the Baptist on the actual day it falls (vigil on Monday 6 July at 6.00pm and liturgy on Tuesday 7 July at 8.30 am). If you wish to attend liturgy on the feast day, please let me know in advance in the same way as for Sundays.
God willing, there will be further relaxations on church gatherings in the coming months.
Father Alexander
Please also see:
To help us through this period, we ask you to consider a regular monthly financial contribution to our parish. Contributions directly into our parish bank account is the easiest way to make your donation. Our bank account details are as follows:
BSB: 032719
Account: 602930
Other updates for the parish community and communications from the parish clergy will be published here. Please check back regularly.
Easter Greeting
Easter Greeting from Archpriest Alexander.
Our Journey Towards Easter
Fifth Sunday of Lent – St Mary of Egypt
Lazarus Saturday and Palm Sunday
For updates to the service schedule and other parish events, follow us (@stjohn_baptist) on Twitter or on Facebook.
Parish Life
Faith and Wisdom
A new ministry will begin in our church called 'Faith and Wisdom'. These talks/discussions will help our congregation to better understand their faith and to grow in their faith. This is open to all adults and will cover all aspects of our faith including the basic concepts of Orthodoxy. Details are as follows:
These classes are now held online at 1:30 pm - 2:15 pm on Sunday afternoons. Please see our Facebook page for the link.
Daniel and the Three Youths Ministry
This is a new service for the children of our parish aged between 5 and 8 years old. The purpose of this service is to teach the next generation the foundation of our faith, including beliefs and practises, as well as church hymns that will enable them to participate in the liturgy.
Class will begin and end with prayer and will be conducted according the the following format:
Church hymn lesson
Religious lesson
Lesson activity
These classes are now held online at 12:30 pm - 1:00 pm on Sunday afternoons. Please see our Facebook page for the link.
Bible Study
The bible study continues at 6:30 pm on Monday evenings (except when this coincides with a church service). These classes are now held online. Please see our Facebook page for the link.
Upcoming Events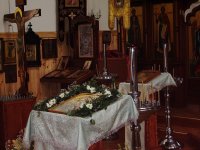 Parish Membership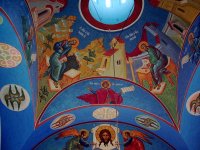 We would encourage those who attend our services and are part of the Orthodox community in Canberra to become parish members. An explanation of the importance of parish membership

is available in Russian and English, as is a parish membership form,

also in Russian and English.
Information is available about how members of our community can help to support our parish financially, when unable to attend weekly services.