Parish Life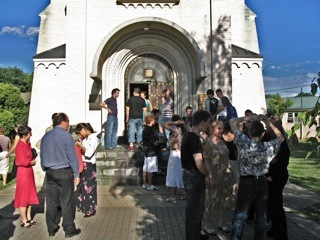 Lent and Easter 2020
Easter Greeting
Easter Greeting from Archpriest Alexander.
Our Journey Towards Easter
Fifth Sunday of Lent – St Mary of Egypt
Lazarus Saturday and Palm Sunday
Past Events
2014
Saturday, 6 December 2014 - Russian Bazaar.
Saturday, 5 April 2014 - Easter Bazaar.
2013
Saturday, 14 December 2013 - Russian Bazaar.
Wednesday 10 April - the discussion group topic was the events commemorated in the Holy Week services.
Tuesday 26 March - the discussion group topic was Great Lent.
Pancakes on Cheesefare Sunday.
Saturday 16 March - Easter Bazaar.
2012
Russian Bazaar - Saturday, 8 December 2012, from 10am to 2pm at the Church Hall. Read on…
Tuesday 21 August - the discussion group topic was the symbolism of the church services, including a a tour of the church.
Saturday 28 July - Russian food fair.
The first discussion group was on Tuesday 10 July on the topic Creation - a rational belief? The discussion group was led by Archpriest Alexander Morozow and Priest Seraphim Slade, from the St. John of Shanghai and San Francisco mission
The parish celebrated its patronal feast day (the nativity of St John the Baptist) on Sunday 8 July. His Eminence Met. Hilarion will served at both the All Night Vigil d the Hierachical Divine Liturgy. The liturgy was followed by a festal lunch.
Great and Holy Friday, Great and Holy Saturday and Pascha.
The All Night Vigil and Divine Liturgy for Palm Sunday.
Parish Eater Bazaar.
Service of Holy Unction, 2012
First week of Great Lent, 2012.
Photos and video from the Theophany of Christ.
Photographs from the Nativity of Christ (January 2012) show the latest additions to the fresco icons of the church.
In November 2011 the miracle-working Kursk-Root Icon of the Sign visited Canberra.