Hall Hire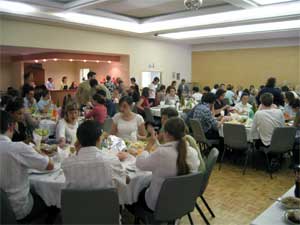 The parish hall opposite the church in Matina St, Narrabundah, Canberra, is available for hire by individuals and community groups. The hall is eminently suitable for function hire (including large events) such as dances, wedding receptions, birthdays, anniversaries and wakes, as well as other social functions and play groups, martial arts or other community groups. It is equipped with a modern kitchen, bar and stage.
For weekend hiring (Friday to Sunday nights), functions will need to conclude by 8:00 PM (packing up may finish later).
Please note that unfortunately the hall is not available for 18th birthday events.
Both hourly (weekday) and per function (weekend) rates are available. For more information and bookings, please contact Natasha Turner on (02) 6232 7591 (evenings).