Canberra Russian Volleyball – Stolitsa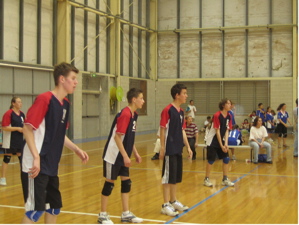 The Stolitsa1 club began in 2004. The teams consist of mens' and under 17's, although it is always possible to create a womens' team.
Stolitsa Results
2005
Under 17's, Runner up, Russian Cup, Sydney
Under 17's, ACT Schools Cup, 4th
2006
Under 17's, Runner up, Russian Cup, Brisbane
Men's team, Division 2, Russian Cup, 3rd place.
Men's team, Divison 3, Neighboutrhood Games, 5th place
2007
Men's team, Divison 2, Geelong, 1st place
Men's team, Divison 2, Neighbourhood Games, 1st place
2008
Men's Divison 2, Sydney, 1st place
A collection of photos (updated June 2009) of Stolitsa is available.
History
Every year for the past 40 years or so, Russian men and women have gathered together to play volleyball around Australia. Originally founded in Sydney by the Vostok Volley ball Club, the tradition of volleyball as a sport and as a social event has continued. There are clubs in Sydney, Geelong, Dandenong, Brisbane and now, with the emergence of Stolitsa, in Canberra, as well.
Today
The long weekend of October is the traditional time when all Russian Volleyballers play for the Russian Cup. Any sport minded Russians interested in playing volleyball socially and maybe competitively can contact either Natasha Turner, 6232 7591, or Tina Kargin on 6238 2612 for more information. You don't need to be experienced, just keen!
The adult team includes Alex Turner, Paul P., Jacob Turner, Pasha Proselkov, Victor Kargin, Johan Swinnen, Boris P., Dennis Kargin and Daniel Kargin. The members of the Under 17 team are Daniel Kargin, Alexei Dukhnovski, Peter Ovchinnikov, Pasha Proselkov (Coach), Alex Turner, Misha Ovchinnikov, Jacob Turner, Callista Kargin and Dennis Kargin.
Pictured above are some of the Under 17 team in action in Sydney. Members in this photo are, from left to right, Callista Kargin, Jacob Turner, Daniel Kargin, Alex Turner and Alexei Dukhnovski.