8 / 21 August
Saint Emilian The Confessor, Bishop Of Cyzicus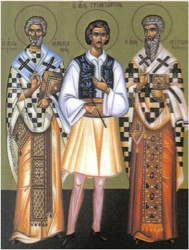 Emilian served as bishop in Cyzicus during the reign of the nefarious Emperor Leo the Armenian, the iconoclast. Since he did not want to submit to the decrees of the emperor concerning the removal of icons from the churches, Emilian and other Orthodox bishops were banished into exile. He spent five years in exile, enduring much pain and humiliation for the sake of Christ. Emilian died in they year 820 A.D. and took up habitation among the citizens of heaven.
Saint Myron, Miracle-Worker And Bishop Of Crete
At first, Myron was married and engaged in farming. Myron, gladly and abundantly distributed the fruits of his land to needy people. At one time, he encountered unknown thieves stealing wheat from his threshing floor. Not telling them who he was, St. Myron helped the thieves fill the sacks, lift them on their backs and to escape. Because of his exceptional virtues, Myron was ordained a presbyter and after that consecrated a bishop. He was a great miracle-worker and performed many good and mighty works in the name of the Lord Jesus. Myron died about the year 350 A.D. in the hundredth year of his life.
The Holy Neo-Martyrs Triandaphyllus And Spaso
Triandaphyllus was born in Zagora and Spaso was born in Radoviste in the Diocese of Strumica. They were both Slavs. Both were young and simple men. But their love for Christ was more precious to them than this world or this life. They gave their lives and did not betray Christ. They suffered at the hands of the Turks for the Faith of Christ: Triandaphyllus in Constantinople in the year 1680 A.D. and Spaso in Thessalonica in the year 1794 A.D.
Return to the index or the advanced search page.