2 / 15 January
St Sylvester, Bishop of Rome
Born in Rome, he was skilled from his early years in secular learning and in Christian doctrine, and his life was always governed by the precepts of the Gospel. He made good use of the tuition of a priest, Timothy, whose death for the Faith he witnessed, and, seeing the example of his teacher's self-sacrifice, nourished himself in that same spirit for the rest of his life. He became Bishop of Rome at the age of thirty, and reformed certain Christian customs; abolishing, for example, the Saturday fast that had up to that time been the rule among some Christians, and decreeing that only Great Saturday and those Saturdays that fall within fasting seasons should be so observed. By his prayers and miracles, he was instrumental in the conversion and baptism of the Emperor Constantine and his mother, Helena, and assisted Queen Helena in the finding of the Holy Cross. He governed the Church for twenty years, and, finishing with honour his earthly life, entered into the heavenly Kingdom in the year 335.
Our Holy Father Seraphim of Sarov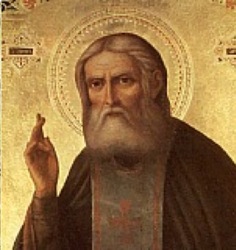 He was one of the greatest Russian ascetics and wonderworkers, with profound spiritual discernment. Born in 1759, he departed this life in 1833. He was distinguished by a great humility. When being praised by all the world, he referred to himself as "the poor wretch Seraphim"; St Theodota; Our Holy Father Ammon of Tabennisi;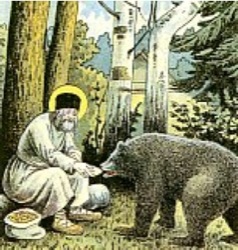 .
St. Seirol (born c.494 in Wales)
(Latin-Serialanus, English-Serial) St. Seiriol the Fair was a younger brother of Kings Cynlas of Rhos and Einion of Lleyn. He entered the religious life and lived in a small hermitage on the Eastern Peninsula of Ynys Mon (Anglesey). His two ruling brothers later decided this humble residence was far too lowly for their Royal brother and founded an important monastery around his cell. Thus, Seiriol became the first Abbot of Penmon Priory. His hermitage and holy-well can still be seen there today. Seiriol became a great friend of St. Cybi who lived at Caer-Gybi on Ynys Cybi (Holy Island) on the far side of Ynys Mon (Anglesey). The two would often walk several miles to meet up for prayers at the Clorach Wells in Llandyfrydog in the centre of the island. This journey with his back to the sun allowed St. Seiriol's complexion to remain so fair that he was given the epithet of "Gwyn". In old age, Seiriol retired to Ynys Lannog (Priestholm), just off the coast from Penmon. It became known as Ynys Seiriol in his honour, though it is now better known as Puffin Island.
Return to the index or the advanced search page.