6 / 19 February
St Bucolus, Bishop of Smyrna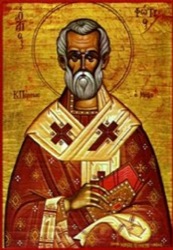 He was a disciple of St John the Theologian, who consecrated him bishop of the city of Smyrna. There were few baptised Christians in Smyrna, and St Bucolus shone like a lamp in the pagan darkness. He was adorned with all the virtues, especially gentleness and meekness. Before his death, Bucolus named the famous Polycarp as his successor in the episcopate, then he peacefully departed this life and went to the Lord.
Troparion (tone 4): Thou didst shine with the rays of virtue/ received from him who leaned on the Master's breast./ Resplendent, God- inspired Hierarch,/ thou didst lead thy flock to the pastures of Truth./ O Father Bucolus, entreat Christ our God for those who honour thee.
Kontakion (tone 2): He who was beloved of Christ/ saw the purity of thy life and made thee a shepherd of the Church/ and a radiant lamp of godliness;/ holy Father Bucolus,/ thou didst emulate his virtues. The Holy Martyr Fausta; The Holy Martyr Dorothea; St Photius, Patriarch of Constantinople; Our Holy Fathers Barsanuphius and John ; The Holy Martyrs Martha and Mary and their brother Lycarion;
Repose of Archbishop Theophan of Poltava (1940)
In the world Basil Dimitryevich Bystrov, Archbishop Theophan was born on 1 January 1872 in Podmosh, St Petersburg province. He was the son of a village priest. A outstanding student, Basil Dimitryevich was tonsured in 1898, and ordained a hieromonk soon after. He was raised to the rank of Archimandrite in 1901 and became the Inspector of the St Petersburg Theological Academy. In 1909 he became the Director of the same institution and then, on February 22, he was consecrated Bishop of Yamburg, fourth vicar-bishop of St Petersburg and Ladoga. During his tenure at the Academy, he was responsible for a great revival in the religious and moral atmosphere. This was all the more remarkable as liberal and revolutionary ideas were widespread at the time. Throughout his service and life as an archpastor, right up to his (regrettably) relatively early repose, Vladika Theophan was a decisive and uncompromising opponent of every kind of modernism, liberalism, and free- thinking, the things which undermine genuine Orthodox teachings about faith and piety and which shake the foundations of the Christian philosophy. An archpastor and an ascetic - that is what Vladika Theophan was in his life! His labours in prayer were astounding. Not only did he unfailingly perform his daily monastic rule and often spend the night in prayer, but he always attended all the services which were held in the nearby church and, if he were unable to do so, he read all of the services for the entire day in his cell, standing at the lectern in front of the icons using the service books in his possession. He did this even when he was travelling. He always had his priest's prayer book with him, from which in such circumstances he always read all the services of the day. This devotion to prayer shone brightly in his face, one glance at which inspired reverence in the faithful, and it raised him to great spiritual heights, endowing him with amazing spiritual foreknowledge. While Vladika Theophan was still a young Archimandrite, all Petersburg knew of his lofty intellectual and spiritual abilities, and all considered him a true man of prayer and an ascetic, one who had completely renounced worldly life and who lived only in God and for God. The Empress Alexandra Fyodorovna herself took notice of him, for she constantly sought men of God, both for herself and for her family, and for the spiritual guidance of the Russian nation. Bishop Theophan soon became her secret confessor and consultant in matters of religion, morality, and philosophy. One would expect, in view of his outstanding abilities, and given his position at the Imperial Palace, that Vladika Theophan would soon become one of the leading figures in the Russian Church. When he was abroad later on, Vladika Theophan often recalled with great compunction how he as archimandrite used to perform the Divine Liturgy in the Palace church on weekdays and how the Empress and her four daughters, the Grand Princesses Olga, Tatiana, Maria, and Anastasia always stood in the kliros and sang the entire Liturgy. "They always confessed with tears", he said with compunction. Later, these memories caused Vladika Theophan to suffer all the more due to the events which befell the Royal Family and Russia as a whole. In 1912, Vladika was transferred to Astrakhan and then, in 1913, to Poltava. It was here that he was raised to the rank of Archbishop. Following the revolution, he left Russia for Constantinople in 1920, participating in the first council of Russian Bishops Outside Russia in Sremski-Karlovtsi in 1921. He was later to sit on the Synod of the Russian Orthodox Church Outside Russia, substituting on occasions for Metropolitan Anthony (Khrapovitsky), the chief hierarch at that time. We have every reason to consider Vladika Theophan as one of the most important, consistent, and strongly principled ideologues the Russian Orthodox Church Outside Russia. His ideology was based on strict and uncompromising preservation of the Holy Orthodox Faith; unconditional rejection not only of obvious heresies, but also of every type of modernism, free-thinking and liberalism which undermine our Holy Faith and which strive to make of it "salt which has lost its savour"; and refusal to accept the God-hating regime which enslaved the Russian land and which endeavoured to uproot Christian Faith and morality from Orthodox Russians. Vladika Theophan made a deep impression as a man of genuinely saintly life on all foreigners who came into contact with him. The enemy, however, takes up arms against such saintly people and makes a special effort to pour out on them all his diabolical malice with the help of malevolent and depraved individuals who are devoted to his service. Thus, due to various unfortunate events in the local Russian Church, Vladika Theophan had to suffer much grief simply because he was such a strict ascetic and an uncompromising Archpastor. Consequently, he withdrew more and more from the world and its raging passions and began to retire into himself, leading what was already virtually the life of a recluse. Soon, though, it became clear that he could not remain "in the world" and that he would have to follow the example of the great ascetic and pastor whose name he had received in tonsure, His Grace Theophan the Recluse of Vishenki. In 1931 Vladika moved to France. He began to live as a complete recluse, having utterly severed all ties with the outside world. He served the Liturgy each day in a house church built for him by his spiritual children. Those who cared for him died before him and so little is known of the last years of his life. He reposed on February 6/19 1940 and was buried in a cemetery close by. He had lived in chalk caves high amongst the hills overlooking the Loire river. In one cave was his cell and church; others had been used as storerooms. His cell contained a Bible with dried flowers gathered at the ditch surrounding Diveyevo and other sacred things between the pages; a box with relics in little gold vessels; and many other holy things. His memory is eternal in the hearts of all true Orthodox Russian believers who knew and honoured him.
On the same day: in Ireland, Saints Mel of Armagh Melchus and Munis of Lough Ree, Bishops and Rioch, abbot nephews of St. Patrick; and St. Finian, abbot; St. Ina, king of West Saxons
Return to the index or the advanced search page.