16 / 29 May
Our Holy Father Theodore the Sanctified
He was a disciple of St Pachomius, being born and growing up an unbeliever. Coming to the true Faith as a young man, he was baptised and, having heard of St Pachomius, fled to him in his monastery unknown to his parents. St Pachomius made him a monk and came to love him for his rare zeal and his obedience. When his mother came to fetch him back home, he would not let her see him, but prayed to God to enlighten her with the truth. And indeed, his mother not only did not take her son back home but herself did not return. Seeing a women's monastery, ruled by Pachomius's sister, close by, she entered it and was tonsured. After a certain time, Paphnutius, Theodore's brother, also came to the monastery and was tonsured. It once happened that the Bishop of Panopolis invited Pachomius to build a monastery for the many people who were desirous of the monastic life. Pachomius took Theodore with him, and entrusted to him the duty of building the monastery. Upon Pachomius's death, Theodore became abbot of all Pachomius's monasteries and lived until great old age, guiding a multitude of monks on the way of salvation. He entered peacefully into rest and went to the Kingdom of eternal light in the year 368.
St. Brendan the Voyager, abbot of Clonfert (578)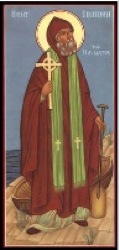 St. Brendan sailed in skin-covered coracles, from Ireland to Scotland, then to England and Wales. His most famous voyage in search of the promised land, was described in a famous saga known as the 'Navagatio,' which indicates that he reached Greenland or even North America. It is still possible to construct a coracle according to the instructions of the Navagatio, and to sail it from Ireland to Newfoundland. St. Brendan was born near Tralee on the west coast of Ireland, and he was brought up by a saint called Ita, who taught him three things that God truly loves: 'the true faith of a pure heart; the simple religious life, and bountifulness inspired by Christian charity.' (She added three things that God hates: 'a scowling face; obstinate wrong- doing; and too much confidence in money'.) He founded several monasteries the most renowned being at Clonfert, a centre famous for missionary work, where he is said to have directed three thousand monks..
On the same day: The Blessed Maiden Musa; St Nicolas Mysticus, Patriarch of Constantinople; The Holy New Martyr Nicolas; Our Holy Fathers martyred at St Sava's
Return to the index or the advanced search page.