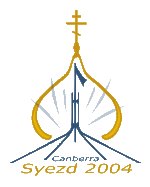 Youth Conference 2004
St John of San Francisco and Shanghai, An Apostle to the World from the Russian Church
How many here think that in the years to come you will be married? How many will be a monastic? How many of you think you will be a priest, or the wife of a priest? How many of you think you will be an archimandrite, abbot or abbess of a monastery? How many of you think that you might even be a bishop?
As a young man, St John of Shanghai and San Francisco also had no idea of what path his life would take. On the occasion of his ordination, St John expressed this very progress:
"My parents nurtured me in a striving to stand unwaveringly for the truth, and my soul was captivated by the examples of those who had laid down their lives for its sake, who had fought a against kings who persecuted the saving Faith, and on behalf of those kings who showed themselves to be carriers and defenders of piety. In these early years I had a poor conception of the path to be taken. As I grew older I thought of entering military or civil service and thereby to devote myself to serving my country which was at that time a stronghold and guardian of true piety.
"I entered a secondary school bearing the name of one of the most illustrious pages in Russia's history: the Petrovsk Poltava Military Academy; but there I felt that I must choose another path. Encouraging this new flow of thought was my contact with our religious studies instructor-Archpriest Sergei Chetverikov and the rector of the seminary-now Archbishop Varlaam.
"...While studying secular subjects, I became more and more engrossed in the study of that science of sciences, the spiritual life. The church and the monastery where the Archpastor lived held a greater attraction for me than the place where I was pursuing my courses.
"The ensuing ruination of our country's governing power convinced me once and for all of the transience of everything earthly and of the weakness of human strength and human capabilities, and I decided to break with the vanities of the temporal world and to dedicate myself exclusively to serving, God.
"But the call to serve God, which commanded my soul to deny itself and take up its cross and follow after Christ (Matt.. 16: 24), carried also another requisite: to become a fisher of men, Before my outward ties with the secular world were severed altogether, a thirst for theological learning led me into a seminary under the protection of that great hierarch, St. Savva, and then onto the path which he indicated."
From this time forward and for the rest of his life, Vladyka John was a "fisher of men". He traveled to every corner of the earth and wherever he was, he fulfilled this calling, fishing for the souls of those among whom he lived. In Serbia, St John taught in the seminary, there preparing future pastors, future "fishers of men" to continue the work in their homeland, caring for the flock of Christ, bringing their own people into the Kingdom of God. In China, not only did St John care for the Russian community, but he also gathered many Chinese believers into the flock of Christ. When it became necessary to flee from China, the Russians and the Chinese together, as one people, went into exile.
Having found new homes for all his spiritual children in various places throughout the world, St John was assigned to Paris where he again not only cared for the flock of émigré Russians, but also began to gather various European peoples into the Church. Even today we see the indigenous Churches of France, the Netherlands, Belgium, and others in western Europe which are the result of St John's efforts. In coming to the United States, again St John noticed and fostered the efforts of those such as Fr Seraphim (Rose) which would result in the presence of indigenous North American mission parishes within the Russian Church There is no doubt that St John was a missionary, fulfilling the calling to be a "fisher of men".
When we look at the life of St John, it is sometimes hard to see him as a missionary, he didn't go out and open new convert parishes, he didn't hand out tracts on the street corner, he didn't even produce major translations of anything into "the native language". How then was he a missionary? To answer this question adequately, we have to go back to some even more basic questions which define God's relationship with us and our purpose and role in His Kingdom. The most basic statement that can be made about God's relationship to us is that God loves us. That's it, that's the core and crux of everything else - God loves us. Because God loves us, then we can also love Him. Without God's love for us, we would not have the capacity to love Him, we would not have the capacity to love at all. The next step is that our mutual love, God for us and ours for Him, creates a communion of love between us wherein we become a vessel of divine Love, filled to overflowing with the love that originates in God. In this way we are united with God and live in Him as He lives in us. We become the means by which He expresses his love to the world. God became man as the ultimate expression of His love and then in His incarnation, He established the Church which is His Body and after His Ascension and the descent of the Holy Spirit, the Church continues as the ultimate expression of God's love to the world. We who are members of the Church are the individual means by which that love is expressed. When we love the world with God's love, then that opens the door for those who desire to love God to come in and also to be united with God and with us in His love. This is true missionary activity - to love the world with the love of God and through that love unite the world to Christ in His Body, the One Holy Catholic and Apostolic Church. This is exactly what St John did and this is why he is a missionary.
To look at the missionary efforts of St John, then we must look at his love for the world.
Even before being granted the rank and ministry of a hierarch, he already showed this perfect love in his life. As a teacher in Bitol Seminary in Serbia, he taught others to have this same love for the world, preparing future pastors to be the instrument of the love of God and therefore to be missionaries just as he himself would become. In the words of his students, "Fr John loved us all and we him. In our eyes he was the embodiment of all Christian virtues: quiet, calm, gentle. He glowed before our eyes. ... He became for us so close that we considered him an older brother, loved and esteemed. There was no conflict, personal or public, which he could not resolve. ... He daily and nightly prayed for us. Every night, like a guardian angel, he watched over us. For one he adjusted a pillow; for another, a blanket. Always upon entering or leaving the room, he blessed us with the sign of the Cross." In all this, he taught the future priests that they must always center the lives of their flocks on the love for one another, not through words, but through deeds, by their own personal example. He taught that, "A priest is the spiritual father of his parish; he must act in this way: his parish is large family which cannot exist without pastoral love and daily prayer. Wherever possible he must come to help in order to partake of their joy and their sorrow. These are Fr John's main thoughts which he explained in all his teachings." (quotes from Blessed John the Wonderworker, pp 78-80)
In addition to love and compassion towards others, it is necessary also to have the love for God. This love for God is demonstrated in the holy life of the missionary. It is impossible to speak of St John without speaking of his ascetic life which he undertook for the love of God. Now, ascetic labor is worthless in itself, it is only the effect of such labor that makes it valuable. The goal of an ascetic life is first the denial of one's self and then to ascend the Cross with Christ. Ascetic labor is valuable only inasmuch as it brings us nearer to Christ, only inasmuch as it permits us to acquire the Holy Spirit in more abundance. St John was not so much a lover of asceticism as he was a lover of Christ. Asceticism was for him only a means by which he would obtain that which he desired more than anything else - to be near to God and to be filled with the grace of the Holy Spirit. Even in this early part of his life, despite his attempts to hide it from the eyes of others, St John was known for his ascetic labor and the result of this labor which was the quality of holiness. The seminary in Bitol was in the diocese of Ochrid which was ruled at that time by another saint - Bishop Nikolai (Velimirovic). St Nikolai valued and loved the young Hieromonk John and more than once was heard to say, "If you wish to see a living saint, go to Bitol, to Father John." This quality of holiness, fed by St John's ascetic labor, has the same attractive quality as love and compassion. Both of these attractions were to be found in Vladyka John.
As St John expressed in his homily on the occasion of his elevation to the episcopacy, he himself had no ambition or even idea that he would be called to this ministry. One of the qualities of his growing sanctity that he nurtured without fail was his humility. This we see in his response to his election by the Holy Synod to the rank of bishop. From the account of his life written by Hieromonk Seraphim, we read "In 1934 it was decided to raise Hieromonk John to the rank of bishop. As for Vladyka himself, nothing was farther from his mind. A lady who knew him relates how she met him at this time on a streetcar in Belgrade. He told her that he was in town by mistake, having been sent for in the place of some other Hieromonk John who was to be consecrated bishop! When she saw him the next day, he informed her that the situation was worse than he had thought: it was him they wished to make a bishop!" This fragrance of humility only added to the attractive power of his holiness and love of others.
Once St John was elevated to the rank of Bishop, he was sent to China as the bishop of Shanghai. The love of God that he taught and demonstrated to his students in the seminary became the hallmark of his archpastoral care. He did not spare himself and was always available to those who asked his help. The stories are endless and we could spend the rest of this time with just the accounts of St John's pastoral love while in China. One hallmark of St John's pastoral love that we see for the first time in China, but which continues with him throughout his life is his love of children, especially of orphans. How many people throughout the world today were in their youth orphan's under St John's care. St John "spend a lot of energy on children and young people. Thus he founded the orphanage of St Tikhon of Zadonsk, frequented all the Russian educational institutions, constantly visited all classes of Religious Instruction and personally conducted all examinations on that subject in all schools. An especially difficult task was the upbringing of the orphan children of the St Tikhon of Zadonsk Orphanage.
"He always used to say that the hardest emotional difficulties the orphans have are before great holidays like Christmas Eve and before Pascha, when the orphans see how Christian families prepare themselves for the feastdays, how fathers and mothers take care of their children - and they see that they don't have that. He always strove to be to them both father and mother.
"The kind Hierarch, while raising children in a strictly religious manner, would at the same time make Christmas tree parties, plays, and even acquired horns and wind instruments, resulting in a quite good brass orchestra....
"Young men and women, the members of the St Tikhon of Zadonsk Orphanage, used to love Archbishop John to such an extent that they never felt they were orphans." (Archim Benjamin (Garshin), Australia as quoted in Blessed John the Wonderworker pp 84 & 5).
Time and time again, St John was called to the bed of someone gravely ill. Never did he refuse to come, no matter what the situation, and always he would pray fervently for the one who was ill, often obtaining the healing balm of God's grace, even when the case was deemed hopeless by the medical community. No one who asked for the saint's help was refused.
The final scene of St John's pastoral love and care in China was the oversight of the exodus of Russian refugees from the advancing communist forces and his care of the Russian refugee community in the Philippines. Like a true father, he sent his spiritual children ahead of himself to safety while he himself remained in China until he was sure that all were safe. Then he himself joined his flock in the Philippines where they were protected by his prayers. An example from the account of his life, "When the fear of typhoons was mentioned by one Russian to the Filipinos, they replied that there was no reason to worry, because "your holy man blesses your camp from four directions every night." They referred to Vladyka John; for no typhoon struck the island while he was there. After the camp had been almost totally evacuated ... it was struck by a terrible typhoon that totally destroyed the camp" He finally found permanent homes for all his flock, whether in Australia, the Americas or Europe. He, himself, was then called to Paris to care for the flock of the Russian Church there.
In Europe we see the pastoral love of St John expand to an even greater degree. As before, he would respond without holding back to the needs of his Russian flock. He continued to support the orphanages and other charitable institutions that were sponsored by the Church. However, here we begin to see how St John would reach out beyond the borders of the Russian community, beyond the borders of his flock to those around him who were also hungering for the faith. One of the enduring testaments to St John's outreach efforts is the veneration of western saints. While in Europe, St John took an interested in the indigenous saints of the countries of western Europe who had struggled to work out their salvation in the times prior to the tragic schism that took the Roman Catholic Church and her children, the various protestant confessions, away from the One True Faith. In rediscovering these nearly forgotten saints of the Orthodox Church, St John provided a link for those in the heterodox Christian west back to the Orthodox Church, a link which had long been broken and lost.
There were, in various parts of Europe, small Orthodox communities founded to serve Russians who traveled or lived abroad even prior to the Soviet years. Some of these communities, particularly in France and the Netherlands, had begun to attract local converts and by the time St john arrived in Western Europe some of these small communities had been struggling for years in relative obscurity. They were not the priority of the emigree Church, which at the time was simply trying to cope with the huge mass of refugees both from the time of WWI and the Soviet revolution as well as WWII. St John found these small parishes, however, and out of his archpastoral love began to nurture them as his own. He ordained for them clergy from their native lands and consecrated hierarchs from among their own people for them. From these small beginnings the indigenous churches of the Netherlands and France grew. Even today these Churches continue to exist and count St John as their founder and patron.
It is important to note here that St John never acted "outside" the Church or in any way on his own in these things. He always took what was given him by the Church, whether it be the saints who had always been recognized but were nearly forgotten on one hand or the small parishes which had their origins in the pre-revolutionary Russian Church on the other and built on that foundation. All that he did was always done with the knowledge, cooperation and blessing of the Synod of Bishops. St John never set up any kind of Church administration or Church life outside of or in opposition to the Russian Orthodox Church. Everything he did was within the limits and parameters of normal Church life. I say this because there are some today that claim the work of St John as their foundation and authority, but who reject the authority and life of the Russian Church of which St John was always and inextricably a part. We must never forget that he was and is fully and completely within the Russian Church - but we will speak more of this later.
One other thing that was evident from the life of St John was that he gained a reputation for "holiness" even among those outside the Church. True holiness is recognizable and attractive even to those who are not in the Church as can be seen from the report of a Roman Catholic priest in Paris who said to the youth of his parish, "You demand proofs, you say that now there are neither miracles nor saints. Why should I give you theoretical proofs, when today there walks in the streets of Paris a saint - St John the Barefoot."
While he was in Europe, his spiritual friend Archbishop Tikhon ruled the diocese of Western America. Due to his age and health, Archbishop Tikhon desired to retire from active life in the Church. At the same time there was a great deal of turmoil within the diocese of Western America and the only person who was thought to be able to bring unity and resolution to the conflict was St John and so in 1962 he transferred to San Francisco and the diocese of Western America.
In Western America we continue to see that St John has not changed in his life at all - he is still the living expression of God's love and compassion to the world, both to the Orthodox and to those outside the Church. Just as elsewhere, St John's love and holiness were evident and began to draw people to the Church - those in the Church to a greater devotion and piety and those outside the Church to desire union with Her. Possibly the best known example of this missionary effect of St John is visible in the person of Hieromonk Seraphim of Platina. Fr Seraphim, in the world, Eugene Rose, was drawn to the holiness of St John and through his influence was received into the Russian Church. From that time on, St John merely guided the future Fr Seraphim in his spiritual life, seeing and encouraging his zeal for his fellow countrymen and blessing the activity of Fr Seraphim and Fr Herman that would eventually lead to the establishment of an American monastic community and a string of American mission parishes throughout the west coast of the US. All this resulting from St John's love and holiness which brought the searcher Eugene Rose into the Orthodox Faith.
In all of these examples throughout the life of St John it is his expression of the love of God and his holy life which were the crux and force of his missionary activity. St John did none of the things that we normally think of missionaries doing. He lived and worked only within the Russian Church and community - but he turned away no one no matter what their ethnicity or faith. He didn't preach to the unenlightened or engage in public debates about "Truth". He didn't translate works in Russian into other languages (although he encouraged those who did) and didn't leave the Russian community to cater to the "converts". But all the same he is known as a missionary and apostolic bishop and countless converts to Orthodoxy look to him even now as their patron and teacher in the faith. All this only because he lived in his life the love of God.
Love and compassion are like honey to bees or flies which is attractive to both insects alike, just as love attracts all those around it regardless of whether they are connected to it (as bees are to honey) or coming to it from the outside (as flies to honey). Whenever and wherever God's love is made manifest to the world, there will be those who are drawn irresistibly to it. I can share with you a little story from my own life here that illustrates the attraction of love. Many years ago, even before I had entered the Orthodox Church I came to know a man who claimed to be an Orthodox hieromonk. Now I was at the time still quite ignorant of all the jurisdictional irregularities and such that have plagued the Church in the diaspora (particularly in North America). This person was full of love of others and compassion and I was drawn to that quality in him. Because of this quality of his, I was favorably inclined towards him and he helped me quite a bit in my journey to the Orthodox faith. Even later when I came to a full realization of the fact that he, himself was affiliated with an illegitimate group that had only the name of Orthodoxy but which was not truly part of the Church and also that there were significant moral problems, I still held a loyalty of friendship to him and somehow hoped beyond logic that he could somehow be perceived as a true part of the Church. Even in the face of the disapproval of my parish priest and of my own hierarch, I maintained this friendship on the sole basis of the compassion that I saw in him. The only thing that destroyed that bond was an incident that revealed to me that what I perceived as love and compassion was only a facade and that underneath was only anger and bitterness towards the Church. This single event in my life brought home to me the attractive power of love and compassion and the necessity of expressing it towards others.
In his report to the Synod on "The Spiritual Condition of the Russian People in the Diaspora" (1939), St John said, "The Lord ... (pointed) out the way to salvation and...(made the Russian People) teachers of Orthodoxy throughout the world. The Russian diaspora has acquainted the four corners of the earth with Orthodoxy, for ... the Russian immigration unconsciously preaches Orthodoxy. Everywhere, wherever Russians live, they build little refugee Churches or even majestic cathedrals... Russians abroad have given the light of Orthodoxy to shine throughout the world in order that the other nations, seeing their good works, might glorify our Father in heaven and seek salvation." St John sees that part of the spiritual purpose and meaning of the diaspora is in fact missionary activity - not necessarily by any conscious or purposeful proselytism, but simply by being Orthodox, by expressing God's love and holiness in their daily lives by which those in the diaspora become a light set on a hill, a beacon in the darkness bringing the light of Christ even to the remotest corners of the earth.
St John did not only see this "missionary activity" to be an unconscious side effect of the diaspora, but in fact considered it to be an indispensable necessity of the diaspora. "To the Russians aborad it has been granted to shine in the whole world with the light of Orthodoxy, so that other peoples, seeing their good deeds, might glorify our Father Who is in heaven and thus obtain salvation for themselves. But if it (the diaspora) does not perform this purpose, and even abases Orthodoxy by its life, the diaspora will have before itself two paths: either to be converted to the path of repentance ... or else to be finally rejected by God and ... disappear from the face of the earth." (The Meaning of Diaspora, Shanghai, 1938) You see, to be a missionary, to be a "light to the world" is not an option, it is not a "side effect" but it is a necessity, an essential part of being Orthodox and being Russian. Each one of you - each one of us, from the highest to the lowest, is called to be a missionary, to spread the light of the Gospel of Christ throughout the whole world, to all the nations of the world. This we do by making our lives expressions of the love of God and by holiness. We put out this "honey" that attracts not only the bees of the Orthodox Church, but also the flies who come to the Church from the outside. This is essential for each of us, it is not optional. And if we neglect this task that God has placed before us, then what recourse do we have? We will wither and finally disappear from the world.
Recall that one of the things that St John mentions is that wherever the Russians of the diaspora are to be found in the world, there rise up Churches - little refugee Churches and even great cathedrals. These little Churches are like seeds which God has planted throughout the world - seeds which are expected to grow and mature and bear fruit. Now look around your own community. Do you see that Church? yes, that Church the one that you go to. This is one of those seeds. Has it grown, has it matured has it born fruit? What part have you played in the life of your parish? How have you been a missionary? Are there any converts in your parish, does your parish exude the "honey" of God's love and compassion to attract them? Whatever might have happened in the past, you are the ones to whom this responsibility is given for the future, and so it is time to begin asking yourself - how can I express the sweetness of God's love to the world around me? How can I develop within myself the fragrance of holiness?
Now is the time to revisit something that we mentioned briefly a few moments ago. For all of his missionary activity, for all that he loved the world, for all of his effort in resurrecting the veneration of the Western saints, for all his life all over the world, St John was always a Russian bishop, part of the Russian Church and the Russian people. There is always the temptation, especially within the diaspora, to pull away from being Russian. I would not be surprised to learn that everyone, or nearly everyone in this room has been born and raised outside of Russia, many of you have likely not been to Russia. However, for the most part, you are Russian. Like the North American culture and society, the Australian culture and society is at best only marginally, nominally, generically "Christian". The last true "Orthodox Christian" society and culture in the world (that is a society and culture which are shaped by and which contain within themselves the Orthodox Faith) is the Russian society and culture. The modern western cultures are as yet incapable of containing and transmitting Orthodoxy because they are dominated by the philosophies of naturalism, evolution, and individualism endemic to the western European world view.
Whether or not St John actually formulated any such ideas is unknown to us, but one thing that is apparent was that he recognized the importance of being Russian, of having his roots in Russian soil so that no matter where he was in the world, he would have an anchor, something that would help him hold firm to his Orthodox faith, even as a stranger in a strange land. For this reason St John never stepped outside of the bounds of the Russian Church. He continually worked from within the Russian Church and within the Russian community, using the resources that also had their roots in the Russian Church and Russian society.
The Churches of France and the Netherlands look to St John as their patron, but he did not found the parishes. The parishes that today make up these Churches were at one time the fruit of the Russians living abroad. They were Russian Orthodox Churches which, with the honey of God's love and holiness, had attracted local converts and which, although small and somewhat out of the mainstream had continued within the Russian tradition. St John simply discovered the treasure and encouraged the growth and development of these parishes - he worked with what was already there.
The history of these parishes also shows the necessity of maintaining the Russian root. St John was a unique man, a holy man and a great saint, therefore, he was able to nurture these parishes in a unique way - he had a vision of what could be (a fully independent national Church in the each of these western European countries) and began to encourage and work toward that vision. But when St John was transferred to the US, that vision was not yet mature, there was still much time and development needed under the protecting arm of the Russian Church for them to become viable. But these national groups did not have the patience to continue the slow pace of development and maturation, but instead pushed for more and more independence and cultural reforms to the point that they experienced "jurisdictional problems" and eventually broke away from the Russian Church and ended up never realizing their true potential or the vision that St John had had for them. The French Church for example, after bouncing around through the various Orthodox national Churches, was finally abandoned by the Romanians and no one else would take them on as they had drifted so far from what St John had established. Now they are "independent" but with no credibility and no recognition from anyone - even those clergy who wish to come to the Russian Church cannot be received "in rank" as clergy. These fledgling European "national Churches" were cut off from their root prematurely and they were unable to grow and develop and began instead to wither and die. In the US, seeing the same potential, St John modified his approach and while he encouraged the convert missionary movement, he did not make any move to encourage "American bishops" or an independent American Church administration.
As a convert to the Orthodox Faith myself, I have always had the desire to see my nation, my people, my society become Orthodox. Likewise, I have always looked for ways in which to express the Orthodox faith in uniquely "American" ways. However, realizing that there is no possibility in the near future for the sanctification of the whole of my culture, I have found more and more the wisdom of taking on certain "ethnic" customs which more deeply and fully express the Orthodox life as a part of my daily life. As a result my love for the Russian people and culture as a rich source of Orthodoxy has grown. One of the greatest compliments I have ever been given is when one of my Russian friends said to me, "You're more Russian than the Russian's." This is not an indication that I have become a Russophile or that I have somehow abandoned my own heritage and given up on my own people and nation - I have not. I don't speak Russian well, I haven't changed my name to some Slavic sounding form (as I have seen others do) but what I have done is to be Orthodox. To be "more Russian than the Russians" actually indicates that I have absorbed in my daily life the core quality of Russian culture - the ability to live my daily life as an Orthodox life. Of course we all know that I have a long way to go to be more Russian than anyone or to be more Orthodox than anyone; I only tell this story to illustrate the necessity of remaining rooted and anchored in a truly Orthodox society, even when living in a foreign country. Without this anchor, the convert will become extreme and rigid, over-strict, forgetting mercy and compassion for there is no root by which he absorbs the rich abundance of the living water - or he will become so overwhelmed by the non-Orthodox world around him that all the savor of his Orthodoxy is lost to compromise with the world.
The forgotten and orphaned Western Saints were rediscovered by St John who took them in as enthusiastically as he took in the orphaned children. However, he did not simply revive them on his own or begin their veneration on his own, nor did he attempt to somehow reconstruct the long extinct western rights on their own. Rather St John took these orphaned saints to the Holy Synod and sought and received the approval of the whole Russian Church Outside Russia for their renewed veneration. These western saints were brought into the fold of the Russian Church and given a new home within the Russian Church. Their memory and veneration was adopted into the context of the Russian Church, just as orphans are adopted into the home of their new families. St John saw the need for there to be a living root from which these saints and those who honor them could draw life by which they could be anchored. The root of the western orthodox Churches was long forgotten and dried up from disuse and so new life required a new a living root - the root of the Russian Church.
St John was always a Russian bishop in the Russian Church and never did he even consider separating himself from that for he knew the importance of having a strong and living root and anchor to sustain the Orthodox life in the world. Just as St John required that root and anchor so do we. As I mentioned earlier, most, if not all of you here were not born in Russia, but are citizens of Australia or of some other nation in the Diaspora where you have lived your whole life. And yet, most, if not all of you are Russian, you have a root that extends through your parents and maybe grandparents on back into Russian soil. You maintain this root through the Russian and Slavonic languages, you maintain it through an appreciation of Russian history and culture. You keep certain Russian customs in your homes, you sing Russian songs, tell Russian stories all of which contain and communicate the Orthodox life. This is your anchor, this is what keeps you from drifting away from your heritage and your faith. But you are a Russian root planted in a foreign land. The root is Russian to be sure and you must never cut yourself off from that root - but the leaves and flowers and fruit of the plant are something else, they are Australian, or New Zealander, or American or European, or British or whatever. In that sense you are a hybrid, perhaps the first of a new breed. Your Russian root holds you fast, but you have the unique opportunity - even the unique ability and duty - to cross over, to translate your Orthodox Faith, rooted in Russia, into real life here in Australia or wherever you may live. You are, in fact, the future of the Orthodox Church in Australia. Will there ever be a new "national Church" in Australia or North America or in some other non-Orthodox land? - perhaps. And if there will be, it will be the fruit of your labors, of your efforts to live the Orthodox life in a new land, in a new culture, in a new age and a new way. To do this you must have a root, you must have something that holds you steady so that you are not blown this way and that by the winds of the time and of change - that root is your Russian heritage. To do this you must also grow and develop and mature in this new land and bear fruit. That is your missionary calling, your missionary duty to bring Orthodoxy - the love of God and holiness - to your new homeland.
Let me finish here with the exhortation of St John to the Russian people in Shanghai which echoes down through the years even to today:
"Shake away the sleep of despondency and sloth, O sons of Russia! Behold the glory of her sufferings and be purified; wash yourselves from your sin! Be strengthened in the Orthodox faith, so as to be worthy to dwell in the dwelling of the Lord and to settle in His holy mountain! Leap up, leap up, arise, O Russia, you who from the Lord's hands have drunk the cup of His wrath! When your sufferings shall have ended, your righteousness shall go with you and the glory of the Lord shall accompany you. The Peoples shall come to your light, the kings to the shining which shall rise from you. Then Lift up your eyes and see: behold, your children come to you from the West and the North and the Sea and the East, blessing in you Christ forever. Amen"

Return to the schedule.